Find your way to the USA
Backer's 41st Annual Pet Industry Christmas Trade Show and Educational Conference
Donald E. Stephens Convention Center, Rosemont (Chicago), Illinois 12-14 October 2007
The American Pet Product Manufacturers Association (APPMA) estimates that the Americans will spend a staggering $40.8 billion on their pets this year. According to the APPMA's 2007-2008 National Pet Owners Survey, 63 per cent of households in the USA own a pet. That equates to 71.1 million homes.
The APPMA also reports that shopping for pet products is becoming easier than ever with an increasing variety of retail outlets now selling pet products. It says that right alongside fertiliser and shovels, shoppers can now find pet products such as doggie doors and yellow lawn spot removers sold at many lawn and garden stores, nurseries, and major home improvement stores - including The Home Depot.
The report goes on to say that high-end items to spoil companion animals are must-haves for pet owners who spare no expense to please their furry, feathered and finned best friends. Items include faux mink coats for cold weather outings, feathered French day beds for afternoon naps, designer bird cages, botanical fragrances and to top it all off, a rhinestone tiara!
Here's a route to that lucrative market
Backer's Christmas Trade Show is one of the largest pet industry dealer shows in the United States. The 2006 show featured 1,009 manufacturers and wholesalers exhibiting in 1,552 booths and drew more than 9,500 retail buyers from around the world.
Buyers Attending in 2006 by type of firm
| | |
| --- | --- |
| Pet Shops/Pet Superstores | 39% |
| Online Pet Stores | 13% |
| Aquarium Shops/Maintenance | 8% |
| Grooming Businesses | 22% |
| Boutiques/Specialty/Gift Stores | 29% |
| Boarding Kennels | 9% |
| Distributors | 7% |
| Mail Order Catalogues | 3% |
| Miscellaneous Firms | 17%* |
Note: H H Backer states that because some firms checked off multiple business descriptions, the percentages do not add up to 100.
*Miscellaneous Firms include lawn and garden stores; veterinary clinics; department, discount and variety stores; companion animal wholesalers; manufacturers' representatives
BUYERS ATTENDING IN 2006 BY JOB TITLE
| | |
| --- | --- |
| Owner | 80% |
| Manager | 12% |
| Buyer | 5% |
| Other | 3% |
A British group presence
PetQuip is organising a British group at Backer's Christmas Trade Show 2007. There's a package deal for British firms exhibiting as members of the group and cash grants to help offset the cost of stand space and construction. Eligible firms can claim a £1,800 cash grant towards the cost of exhibiting through UK Trade & Investment's Tradeshow Access Programme, subject to meeting the grant's terms and conditions.
For more information and to book a stand within the British group, please contact Theresa Swann, Head of Events and Administration
T +44 (0) 1959 565 995
F +44 (0) 1959 565 885
E info@petquip.com
---
Interzoo
Nuremberg
22-25 May 2008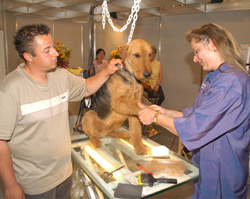 Plans are already in hand for Interzoo next year. We've negotiated space at the show for a British exhibitor group and will be announcing details of a stand package deal in the coming weeks.
We will also be applying for grant support for our members under UK Trade & Investment's Tradeshow Access Programme (TAP) in due course. It will, however, be some time before we know the outcome of that bid. The important thing to note is that if you wish to apply for a TAP grant, you should complete a grant application form (which is available from PetQuip) before committing yourselves to exhibit at the show.
Theresa Swann, who organised the British group at last year's show, will be managing the exhibitor group at Interzoo 2008. Please email your details to Theresa at info@petquip.com if you would like her to keep you up to date with developments.
Discount on space at Glee Petindex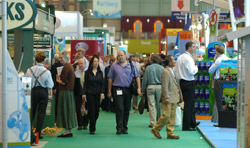 For new and existing exhibitors at Glee Petindex who are not already receiving a discount through a sponsoring trade association, being a member of PetQuip entitles them to a 12.5% discount on stand space. In many cases that could more than offset the membership subscription.
We have recently added a new 'Become a member' page to our website, www.petquip.com, which enables you to download PetQuip membership application forms and subscription rates.
Glee Petindex takes place from 16-18 September 2007 at the NEC Birmingham
Expozoo, Paris Nord Villepinte
18-20 March 2007
Brochure and product sample display
"It was a great way for a small company to test the market interest on mainland Europe and even if only one lead turns out to be a buyer it was well worth it!"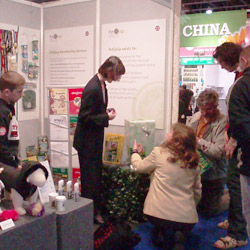 14 British suppliers took the opportunity to display their brochures and a small product sample on the PetQuip information stand at Expozoo in March. During the three days of the show, 55 buyers visited the stand and made, in aggregate, 177 enquiries about the products on display. The enquiries were relayed within a week of the show to the appropriate participating companies, several of whom reported almost immediate success.
"Will you please keep me on your list for any more trade show promotions like the Expozoo display. I have had such a positive response from the list you sent me of interested parties and I would like to participate in similar schemes run by PetQuip in the future."
---
Market report: Garden, DIY and Pet Products in
The Netherlands
A new report on the Dutch market for garden, DIY and pet care products has just been published. Commissioned by the Federation from the Trade and Investment Section at the British Embassy in The Hague, the 50 page report provides an overview of the sectors and identifies the key supply chains and main retailers operating within them. It also contains a validated list of 95 trade contacts, which includes importers and distributors of garden and pet care products.
Available exclusively to members of the Federation, the report is priced at £95 +VAT
To order a copy, please contact Charlie Parker, Commercial Manager or Eleanor Wigram, Research Manager
T +44 (0) 1959 565 995
F +44 (0) 1959 565 885
E charlie@gardenex.com
E eleanor@gardenex.com
---
Research Library
The Federation's library holds a wealth of information about markets world-wide for garden and pet care products, including market reports, retailers' catalogues, trade directories, show catalogues and international trade magazines, along with sources of guidance on technical exporting issues.
Members of PetQuip are welcome to visit the research library at our offices in Brasted at any time by prior appointment, either to conduct your own research or to discuss your plans and how we can help you achieve them.
Please contact Charlie Parker, Commercial Manager or Eleanor Wigram, Research Manager to book an appointment.
---
13 companies join PetQuip in British pavilion at Zoomark International
Pet clothing ranging from scarves to ski jackets, the latest handcrafted leather pet and fashion accessories, a revolutionary dog training product, hygiene and grooming items, pet cages, 'fish fingers' dog food, and special occasion biscuit treats for dogs were among the products exhibited by 13 companies in the British pavilion organised by PetQuip at Zoomark International in Bologna earlier this month. PetQuip also manned a British pet care industry information stand where international buyers were able to access a free-of-charge UK product sourcing service.
---
For more information about PetQuip or any of the articles in this issue of PetQuip e-News, please contact Neale Hutchinson, Trade Association Manager
T +44 (0) 1959 565 995
F +44 (0) 1959 565 885
E neale@petquip.com