Backer's annual Christmas Trade Show is one of the largest events for the American pet care industry, a sector forecast to account for retail sales this year of over $43 billion. The 2007 edition featured 969 manufacturers and wholesalers exhibiting in 1,507 booths and attracted more than 9,000 retail buyers from around the world.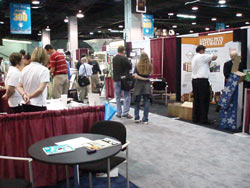 PetQuip will have an industry information stand at Backer's Christmas Trade Show to promote British goods and services to overseas trade buyers and help those buyers source specific products from the UK. As part of that promotion, we're offering you the opportunity to display your firm's sales literature and small product samples on the PetQuip stand. Owing to the tight regulations governing food imports to the USA, we regret that excludes samples of pet foods and treats.
Please note that space is limited. Participation will be on a first-come, first-served basis.
---
Discount on space at Glee Petindex

For exhibitors at Glee Petindex who are not already receiving a discount through a sponsoring trade association, being a member of PetQuip entitles them to a 12.5% discount on stand space. In many cases that could more than offset the membership subscription.
The 'Become a member' page to our website, www.petquip.com, enables you to download PetQuip membership application forms and subscription rates.
Glee Petindex takes place from 21-23 September 2008 at the NEC Birmingham
---
A-Z Guide to Exporting
A revised edition of the Gardenex and PetQuip A-Z Guide to Exporting is now available to members of the federation. Compiled by the federation's commercial manager, Charlie Parker, this comprehensive handbook contains a mass of valuable information that is relevant to new and experienced exporters alike.
The guide is available in Word format exclusively to members of Gardenex and PetQuip. To obtain your free copy, please contact Charlie Parker on +44 (0) 1959 565 995 or email Charlie@gardenex.com
---
Glee to make more of new product awards
Glee director Daniel Thurlow has announced improvements to the show's awards, including the addition of an awards ceremony at the NEC's Hilton Metropole Hotel on Monday evening, 22 September 2008. The awards will also recognise retail excellence for the first time, and will work to give greater exposure to new products through the consumer press.
To enter the Glee retailer and product awards, go to the 'glee awards' page on www.gleebirmingham.com
---
New business from around the world at Interzoo


Members of the British exhibitor group organised by PetQuip at Interzoo have reported overwhelming successes on a global scale. One of the participants described the show as 'spectacular' and the results - in terms of actual and potential business - exceeded many expectations.
At the final tally there were 32 exhibitors in the group, making it the largest British unit to have exhibited at the show in the past ten years. It was striking how quickly a great camaraderie developed between group members and rewarding when British firms exhibiting independently approached us to say how much they regretted not having joined the PetQuip contingent.
The success of the British group at Interzoo augurs well for our future plans for international pet trade shows and events. The dates for the next edition of Interzoo are 13-16 May 2010.
---

Zoomark
7-10 May 2009
Bologna
There's already been a good deal of interest in Zoomark 2009 from those taking part in the PetQuip group at Interzoo and we are negotiating with the show organiser for a bigger and better location for the British group at next year's show. We hope to have full details of our exhibitor package available in time for Glee Petindex.
In the meantime, if you are considering exhibiting at Zoomark 2009, please let us know as soon as possible. It will be immensely helpful in our negotiations with the show organiser to be able to gauge the amount of space we'll require for the British group next year.
To register your interest in exhibiting with the British group at Zoomark 2009, please contact Theresa Swann, telephone +44 (0) 1959 565 995 or email Theresa@gardenex.com
---
For more information about PetQuip or any of the articles in this issue of PetQuip e-News, please contact Neale Hutchinson, Association Manager
T +44 (0) 1959 565 995
F +44 (0) 1959 565 885
E neale@petquip.com