Government cash grants for Zoomark International
PetQuip has successfully bid for government support in organising a British pavilion at Zoomark International this year. This means that eligible businesses exhibiting as part of the PetQuip managed group at Zoomark (10-13 May 2007) qualify for cash grants towards the cost of stand space and construction.

The British pavilion will be funded through UK Trade & Investment's Tradeshow Access Programme. Eligible firms can claim a £1,800 cash grant towards the cost of exhibiting, subject to meeting the grant's terms and conditions. Each eligible business is entitled to exhibit with government grant support on a total of three occasions counted from 1 April 2006. Previous SESA grants will not be included in this total, which is a lifetime limit and cannot be renewed.

Grants from the Tradeshow Access Programme are available to British small to medium sized enterprises (SMEs) that are new to export. For a copy of the full terms and conditions of the Tradeshow Access Programme, and to participate in the British pavilion at Zoomark International, please contact Heather Chalk (+44 (0) 1959 565 995 or email heather@gardenex.com).
---
Display your brochures and a product sample at Expozoo
18 – 20 March 2007
Paris-Nord Villepinte
A cost effective way to test the French market
Supported by UK Trade & Investment, PetQuip will have an industry information stand at Expozoo 2007 with the purpose of promoting British goods and services to overseas trade buyers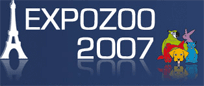 and helping those buyers source specific products from the UK. As part of that promotion, we're offering you the opportunity to display your firm's sales literature and a small product sample on the PetQuip stand at Expozoo. All enquires generated by your display will be forwarded to you on our return from the show.



The cost for testing the French market for your products in this way is just £125 + VAT for members of PetQuip and £150 + VAT for non members. That includes the cost of shipping one carton of sales literature and a small product sample to the exhibition. But space is limited. Participation is on a first-come, first-served basis. To find out more, please contact Kate Smith (+44 (0)1959 565 995 or email kate@gardenex.com).

---
Meet the buyer event and international trade forum
Wednesday 14 March 2007;
venue in the Midlands
Gardenex and PetQuip, in conjunction with the British Embassy in Brussels, are inviting a group of key Belgian buyers from the garden and pet sectors for one-to-one meetings with suppliers in the UK. The buyers of pet care equipment are Mr Van Praet, Tom & Co (Delhaize) and Mr De Somville, Laroy Duvo (said to be the largest importer of pet care products in Belgium). We hope to announce the attendance of one or two buyers from other markets shortly.

In addition to the meet the buyer event, there will be a programme of export related workshops, case study presentations, the latest information on glee and much more. This event will be held in the Midlands. The venue is to be confirmed. For more information, please contact Theresa Swann (+44 (0) 1959 565 995 or email theresa@gardenex.com)

News in Brief
Support for SMEs at Pet Industry Christmas Trade Show
12 - 14 October, Chicago

Backer's 41st Annual Pet Industry Trade Show and Educational Conference takes place at the Donald E Stephens Convention Center, Rosemont (Chicago), Illinois in mid October. PetQuip has secured UK Trade and Investment support through the Tradeshow Access Programme for new-to-export British SMEs who wish to exhibit at the show. Subject to meeting the terms and conditions of the grant, eligible businesses can claim a flat rate of £1,800 towards the direct costs incurred in taking part.
---
Discount on space at Glee Petindex
For new and existing exhibitors at Glee Petindex who are not already receiving a discount through a sponsoring trade association, being a member of PetQuip entitles them to a 12.5% discount on stand space. In many cases that could more than offset the membership subscription.

Glee Petindex takes place from 16-18 September 2007 at the NEC Birmingham
---
Making the most of PetQuip membership to further your market research
Membership of PetQuip gives access to the association's research facilities, including a huge database of international trade buyers. It also offers free use of the association's reference library.
---
For more information about PetQuip or any of the articles in this issue of PetQuip e-News, please contact Neale Hutchinson, Trade Association Manager (+44 (0) 1959 565 995 or email neale@petquip.com)