Thirty suppliers of petcare equipment make up the largest British exhibitor group at Interzoo for the past ten years. Organised by PetQuip, the group of leading firms from the UK is introducing product innovations that represent every aspect of petcare including feeding, health care, grooming, exercise, training and pampering.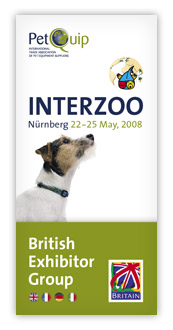 Among the many new food products are fish treats and holistic puppy foods; health goods, including a number of homeopathic remedies; grooming items encompass new quick wash and self rinse shampoos; dog training aids include improved collars and a new instructional DVD; and pampering needs are met with dog fragrances, suede diamante collars and a 100 per cent Merino wool bed.
A full-colour preview brochure, featuring all the exhibitors in the British group, is being mailed in advance of the show to buyers and opinion formers around the world: importers, wholesalers and distributors, chain stores, multiple and independent retailers (including mail order), and trade publications.
The preview brochure, in English, German, French and Italian, will be available free of charge at the show from the PetQuip information stand (9-401) in the British pavilion at the front of Hall 9. It can also be downloaded as a PDF from the PetQuip website.
---
Strong Glee Petindex in store

The organisers of Glee Petindex, Europe's largest annual pet and aquatic trade exhibition (21-23 September 2008, NEC, Birmingham) have reported that this year's show is set to showcase over 300 key British and international pet and aquatic exhibitors.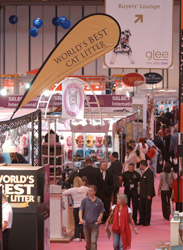 Glee Petindex says it will be welcoming back many of the big name British pet care and aquatic brands, including Interpet, Royal Canin, Vitakraft, Oasis, Tetra, Eukanuba and Iams, and Aqua Pacific, as well as a selection of first time exhibitors including Battle, Hayward & Bower Ltd, Relaxsea and Byofresh. In addition, Glee Petindex will be playing host to over 40 international exhibitors from across the globe.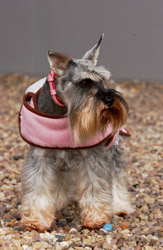 Glee Petindex is a key diary date for pet retailers across the world. The event has a special appeal to a diverse audience, including pet and aquatic retailers, garden centres, supermarket multiples and on-line retailers. Covering every imaginable product and accessory for cats, dogs, small animals, aquatics, reptiles and birds, Glee Petindex is an important annual showcase for major brands, latest launches and new trends. Prominent product groups will include the growing sectors of pet healthcare, specialist nutrition, equine, pet fashion and luxury lifestyle products, amongst others.
Glee Petindex will again feature free pet retail seminars, grooming demonstrations, a Dog Fashion Show, the newly located Glee Petindex New Product area and a 'Going Green' environmental product trail.
Discount on space at Glee Petindex
Exhibitors at Glee Petindex who are members of PetQuip and are not already receiving a discount through a sponsoring trade association qualify for a 12.5 per cent discount on stand space.
For more information about Glee Petindex visit www.gleebirmingham.com.
To enquire about exhibiting, please call +44 (0)20 7728 4262.
---
Display your brochures and product samples at Backer's 42nd Annual Pet Industry Christmas Trade Show and Educational Conference
3-5 October 2008
Donald E Stephens Convention Center,
Rosemont (Chicago), Illinois
Backer's annual Christmas Trade Show is one of the largest pet industry dealer shows in the United States. The 2007 edition featured 969 manufacturers and wholesalers exhibiting in 1,507 booths and drew more than 9,000 retail buyers from around the world.
The Americans are reported to spend more than $40 billion a year on their pets. The National Pet Owners Survey produced by the American Pet Product Manufacturers Association (APPMA) estimates that 63 per cent of households in the USA own a pet. That equates to 71.1 million homes. The APPMA also reports that shopping for pet products is becoming easier than ever with an increasing variety of retail outlets now selling pet products.
A cost effective way to test the American market
PetQuip will have an industry information stand at Backer's Christmas Trade Show to promote British goods and services to overseas trade buyers and help those buyers source specific products from the UK. As part of that promotion, we will be offering British suppliers the opportunity to display sales literature and small product samples on the PetQuip stand. Owing to the tight regulations governing food imports to the USA, we regret that excludes samples of pet foods and treats.
Further information about the cost and how to take part in this promotion will be published in forthcoming editions of PetQuip e-News. Please note however that space is limited. Participation will be on a first-come, first-served basis.
---
The benefits of PetQuip membership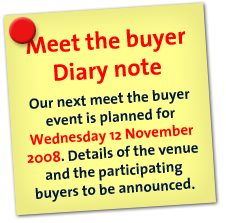 Your business can enjoy many immediate benefits by becoming a member of PetQuip:
For exhibitors at Glee Petindex (NEC Birmingham, 21-23 September 2008), who are not already receiving a discount through a sponsoring trade association, being a member of PetQuip entitles them to a 12.5% discount on stand space. In some cases that could more than offset the membership subscription.
A more extensive list of our services can be viewed at www.petquip.com where you can also download subscription rates and PetQuip membership application forms.
---
For more information about PetQuip or any of the articles in this issue of PetQuip e-News, please contact Neale Hutchinson, Association Manager
T +44 (0) 1959 565 995
F +44 (0) 1959 565 885
E neale@petquip.com